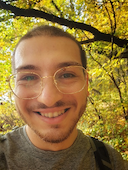 Sebastian Valerio Aymerich
Email: sebastian.valerio.aymerich@univie.ac.at
Position
PhD Student
Research Interests
I am mainly interested on the dynamics of the symbiosis between the giant ciliate Zoothamnium niveum and its thioautotrophic ectosymbiont Cand. Thiobius zoothamnicola. Using RNA-Seq, I wish to understand how both the host and symbiont respond to drastic changes in sulphide and oxygen concentration in a highly unstable environment, and how both parties cope when the current environment strains their association. Additionally, I am also interested on the ecology of benthic macrofaunal communities, and how these are structured based on biotic and abiotic actors.
Education
04/2022 M.Sc., Ecology and Ecosystems, University of Vienna
Thesis: 'A study of the community structure and zonation of hard and soft corals through the use of photo-transects at two offshore reefs in the central Red Sea'
12/2019 B.Sc., Biology, University of Costa Rica
Research activities
03 & 07 / 2020: Field & lab work at the Marine Biology Station Piran, Slovenia:
Sulfide and Oxygen depletion experiments on coarse flow-through chambers with Z. niveum. Identification of vagile macrofauna on artificial wooden & plastic substrates
2016 – 2018: Research assistant at the Centre for Research in Marine Sciences and Limnology (CIMAR), within the project "Establishing the Caribbean Observing Network of ocean acidification and its impact on harmful algal blooms, using nuclear and isotopic techniques"
2015 – 2016: Laboratory assistant at the collection of malacology of the Museum of Zoology, School of Biology, University of Costa Rica
Training & workshops
11/2018: IAEA Group Fellowship on the Application of Nuclear and Isotopic techniques in Ocean Acidification Research. Imparted by Marc Metian, PhD. & Sam Dupont, PhD. (Safat, Kuwait)
07/2017: Ocean Acidification: Experimental Design and Scientific Communication. Imparted by Sam Dupont, PhD. (San Jose, Costa Rica)
Skills
Laboratory work: FISH, Microscopy, RNA, macrofauna identification
Fieldwork: Snorkeling and SCUBA-diving (PADI open water)
Statistics & computer work: Excel, R, Unix (BASH)